"There were so many sounds and smells on our walk, I forgot which way we came from.  Thank goodness mom knew the way home!"  –  Oden, the 1 year old yellow lab
Dogs love it at Trout Lake Resort!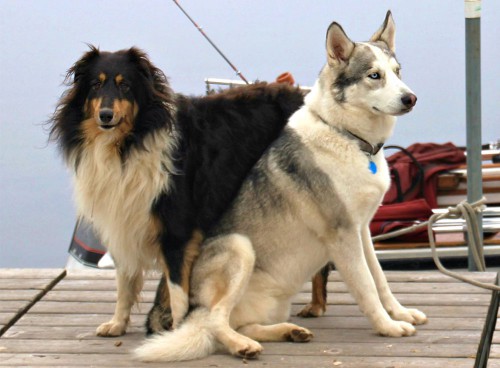 "Lucky"

and

"Coach"

are our lodge dogs.  They get along well with
children and other dogs.
If your dog also likes to vacation on the Gunflint Trail, bring him or her along! With the lake and the woods to explore, she'll have a great time.  Swimming around the dock and playing in the recreation area are favorites.
Please do the usual things to control your dog and pick up after her – there's a garbage can by the dock.  Please don't leave your pet alone in the cabin.  And, please ask us for old towels to clean up your pup if she gets dirty.  Thanks.
These pictures are of dogs who have lived here or had a great time visiting Trout Lake Resort.  Let us know if you'd like to add your dog's picture here!